Silvermine Arts Center
1037 Silvermine Road
New Canaan, CT
Curated by Silvermine by Jeffrey Mueller
February 26 – April 9, 2017
Slate Prints & Wood Sculptures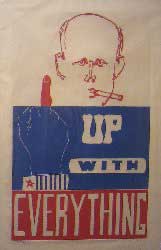 William Kent's large-scale slate prints on fabric and rice paper fall into the various categories of political satire and commentary, erotica, prints with gravestone images, and others with border designs of sentimental greeting cards. Vibrant, original and out-of-the-box, they were first noticed by the art world in 1966 when Kent's work appeared alongside work by Philip Guston, Jasper Johns, and Robert Motherwell at the Whitney Museum's Annual Show. A critic for the Herald-Tribune called them "large, highly amusing and inventive prints that look like Pop posters but really go deeper in their social significance and satiric overtones." In the late seventies, Kent stopped carving his slate blackboards for printmaking, and returned to working on monumental wood sculptures as masterful and astonishing as any of his prints. After the 1960's, the artist lived a solitary life working at his barn studio in Durham, Connecticut. He died in 2012, at age 93.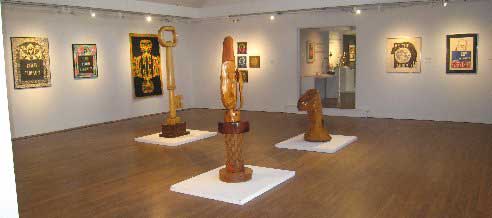 "The prints are the strength of this exhibit, "says Silvermine Gallery Director Jeffrey Mueller. "They have gravity and humor, and his materials are interesting–almost inappropriate fabrics paired with poignant subject matter. His choice of imagery and phrasing is timeless and has the power to resonate even today." A selection of Kent's work, curated by Mueller and James Reed, manager of Silvermine's Gabor Peterdi International Print Collection.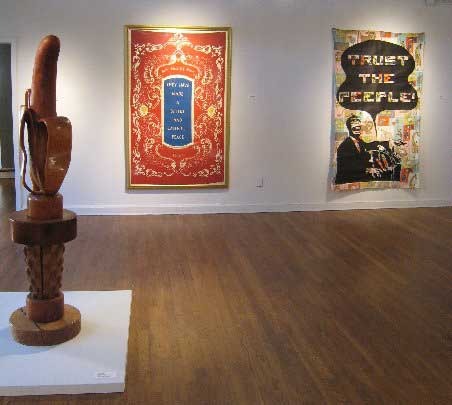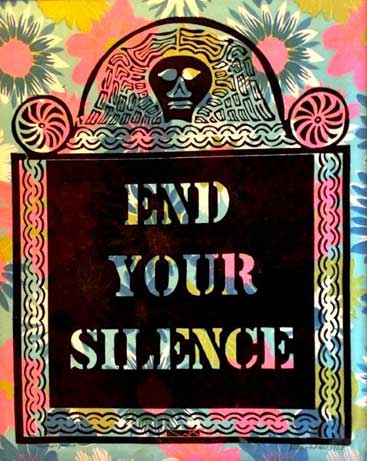 Marc Chabot Fine Arts
P.O. Box 869
Southbury, CT 06488
203-206-2141
[email protected]
mcfinearts.com
Six Summit Gallery
Curated by Leo Feroleto
Ivoryton, CT 06442
860-581-8332
sixsummitgallery.com
Aaron Galleries
1031 Waukegan Rd
Glenview, IL 60025
847-724-0660
aarongalleries.com
Wall Street Gallery
91 Wall Street
Madison, CT 06443
203-245-2912
wallstreetgallery.net
Copper Beech Inn
Curated by Leo Feroleto
46 Main Street
Ivoryton, CT 06442
860-767-0330
copperbeechinn.com
Chamard Vineyards' Bistro & Wine Cellar
Curated by Leo Feroleto
115 Cow Hill Road
Clinton, CT 06413
860-664-0299
chamard.com
P.O. Box 212
Durham, CT 06422
P: 860-349-8047
269 Howd Road
Durham, CT 06422
Subscribe to Our Newsletter
Join our mailing list to receive the latest news and updates from the William Kent Charitable Foundation.
Please check your email to confirm the subscription.